How much does it cost to live in an RV? RV Living cost can vary depending on your RV lifestyle and RV Budget. In this video, you'll learn what Living in an RV full time cost and the monthly cost of RV living. When trying to determine How Much Does Living In An RV Cost there are additional RV living expenses.
🎁 [DOWNLOAD MY BUDGET SPREADSHEET]
---
RV Payment
RVs come in different types and sizes. Buying a cheaper RV may end up costing more in the long term because the RV payment is just one of the costs associated with RVing. You want to choose the right type of RV for your lifestyle and budget. To give you some ideas for How Much An RV Cost here has been my experience thus far:
Travel Trailer = $200 per Month
2018 Winnebago ERA 170M (Class B Van) = $860 per month
2018 Thor Outlaw 37RB (Class A Motorhome) = $743 – $1000 per month*
The travel trailer was totaled in an RV accident and the Sprinter van was traded in with some negative equity in order to purchase my Class A Motorhome. Long story short — RVs are depreciating assets (there is NO upside).
RV Insurance
It may surprise you that RV insurance isn't as much as you would think. However, the cost of RV insurance is determined by many factors including: driving record, location, type of RV, etc… And, yes there is a difference between RV insurance and auto insurance. You'll want to shop around for RV insurance quotes meaning you need to call all the carriers one by one to find the best price. I've used Progressive, Foremost, and Geico thus far. Sometimes trailers are covered by the vehicle they're attached to. My trailer, van and motorhome all cost about the same — about $80 a month to insure. Surprisingly my smart car is the same price!
Fuel (Gas / Diesel)
FYI it cost money to move a 25,000 pound bus aka a house on wheels. Towing a trailer isn't any different. I cried when I towed my trailer because the gas was so expensive and you don't get very good gas mileage towing. My Mercedes sprinter van got the best mpg probably because it was a diesel. And, my class A motorhome has been in the middle. Overall RVs get less than 10 mpg — Yeah true story! It cost me about $200 to fill up my motorhome and that will get me about 600 miles. The van was about $80 and I could go 400-500 miles. The trailer was the worst, I'd estimate 7-8 mpg and that was on a good day. Towing is expensive! Also, I use the same gas in my RV fuel tank to power my generator in my motorhome.
LP Propane
In all 5 years of RVing, I've only filled my propane tank a few times on any of my RVs. Propane lasts a long time depending on what all you have to use it for. Generally propane is used for cooking, heating water, and the RV itself. In my sprinter van, it was also used to power my generator and my fridge (I think). Either way LP propane gas runs about the same cost as gas. They charge by the pound. To fill up my motorhome which has a 26 pound tank it would cost about $60 depending on where prices are. Again, all of this depends on the type of RV and what all the propane is used for.
Water, Electric & Sewer
Often referred to as W/E/S (water, electric, sewer) is what you pay for when you "hook up" at the RV park. This can be anywhere from $30 a night to $1,000 a month. Long term reservations cost less per night in the long run. I pay about $400 a month right now (plus electric which is $40 per month). But, when I was renting a spot at the Las Vegas KOA I was paying $700-800 a month everything included. I've seen some RV parks charge way less and way more. You get what you pay for.
Cable, Wifi & Phone
Sometimes cable and wifi are included in the monthly or nightly RV park rate. Oftentimes they are unreliable. Call ahead and read reviews before relying on an RV park for either. I use my RV antenna to watch TV locally or tether from my phone for wifi to stream a show at times. I use my wifi for working and preserve my data for writing blog posts (like this one), uploading videos to Youtube, checking email etc… I've learned a lot about data usage. Right now I've found a good option with Sprint's HTC hotspot and my phone. I pay around $60 just for the phone or $100 all in for internet (data only) and my phone.

Service & Maintenance
No only do you have to worry about service and maintenance on your vehicle but the same goes for the RV. Just like you change the oil in the car or change the filter in the air conditioner at home you have to do the same living in an RV. The more you move around the more you can expect to pay for maintenance Most RVers learn to handle these items themselves. Changing the oil in the generator, greasing the slide outs, changing the filters in the AC, tires etc… all come at a price of both time and money. You never know what can go wrong traveling. If I had to replace a tire I'd have to pay about $300 just for the tire not including the labor rate to change it. On the other hand replacing my air filters in the AC cost about $24.
Meals & Entertainment
This is all depending on your lifestyle and what you like to eat or do. Think about what you normally spend on food, household groceries, supplies and going out for entertainment. The cost of doing these same things in an RV doesn't change. If you cook at home then you can cook in the RV. If you go out to eat then you can go out to eat. You still have to buy things like toilet paper, soap, shampoo etc… somethings don't change in an RV vs a house.
Other Expenses
There are all kinds of other expenses I could mention. The main ones are the memberships like AAA roadside assistance or discount camping clubs like Thousand Trails and Passport America. These all come at a cost, but they save you money in the long run (depending on your RV lifestyle). I pay about $50 for Passport America and $300 for AAA per year.
To sum it all up…
I pay about $1700 a month for my RV life alone and an additional $250 for my Smart Car, Insurance, and Gas etc… which brings the grand total to around $2,000 a month to live in my RV. This is being hooked up and not moving around. You can buy cheaper RVs and boondock while you travel. It depends on what you are trying to do. Traveling costs money but you can offset some cost by boondocking. It takes time to figure out how to RV on a budget!
🎁 [DOWNLOAD MY BUDGET SPREADSHEET]
---
RV Budget Spreadsheet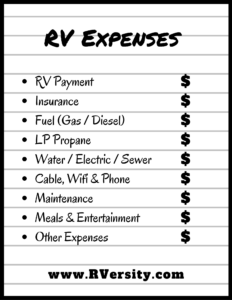 Download this RV budget spreadsheet to help calculate the cost of additional RV living expenses you can expect to pay on top of your RV payment! 
---
RELATED POST
---
💰 WANT TO WORK WITH ME?
I have worked with tons of brands, companies, and publications. (I.e. promotional partnerships, sponsored trips, website advertising opportunities, speaking event, product & service reviews.) let's chat! info@RVersity.com
---
AFFILIATE LINKS for this video. Thank you for trusting me with my truthful and reliable opinion on any future purchase you may make. I always disclose this information when it is the case. As a friend of #RVersity you allow me to be able to use affiliate/referral links when suggesting items for purchase. As a customer of the products I refer, you help me sustain the time and resources to create content on this channel by generating revenue from your sales. This doesn't affect you in any way in the checkout process unless I've been able to arrange a discount for you that is special from other customers.
---
Hey, I'm Blogging Brandi! Over 5 years ago, I traded my sticks & bricks lifestyle for a life on wheels. Quit my job, sold my house, and everything else, then bought an RV! First, was a Travel Trailer, then Van Life then Motorhome Living. Now, I help people go from feeling overworked, underpaid, and undervalued to living a life of freedom & financial security they love from the comfort of their home on wheels aka Full Time RV Living!
🎓 Learn HOW TO RV Like A Pro Enroll at RVersity
🗣 [JOIN MY SECRET GROUP] Interact with me behind the scenes:
💪 [FREE MASTERCLASS – 45min online training!] Learn My Proven 4-Step "Full Time RV Life Formula" To Get Started Fast & Easy!
---
Wonder WHY I Live Full Time in an RV? Here's (MY STORY)…

🚨 UPDATE: My Full Time RV LIFE IS NOT THE SAME! (What Changed?