HOW TO CREATE A SUCCESSFUL YOUTUBE CHANNEL – CREATING A SUCCESSFUL RV YOUTUBE CHANNEL
Wondering How to create a successful youtube channel? When I started RV life, I had no idea that Creating a successful RV youtube channel takes time. In this video, I'm sharing how to start a youtube channel for beginners whether you're full time RV living or just RVing!
But, before you can access the power of YouTube for your business you need to make sure your channel is set up for success, so people can find you and know what you are about.
Make sure you don't miss a step on this checklist.
YouTube is a search engine owned by Google – the #1 search engine. It is a customer magnet!
---
STEP #1 – Set Up Your Channel
First, You will need a Google account, before you can create a new YouTube channel. So, first things first, head over to Google to create an account >> https://accounts.google.com/SignUp
Second, go over to YouTube and login to get started.>> https://www.youtube.com/
Third, You will only be able to access certain features on YouTube once you have verified your channel. Go here to learn how to verify your account >> https://support.google.com/youtube/answer/171664?hl=en
WATCH >> HOW DO YOU MAKE A YOUTUBE CHANNEL
---
STEP #2 – Create a subscription link
This is a secret weapon that not a lot of people know about! Use this link when you share your YouTube channel on other social platforms:
https://www.youtube.com/channel/ Insert YouTube Channel ID ?sub_confirmation=1
It creates an automatic "subscribe" pop-up box before people who visit your page can watch your channel. It's a great way to increase its subscribers on your channel.
This is an example of mine: https://www.youtube.com/channel/UCUz0TuvWRa8wkN1T8oLeN0g?sub_confirmation=1
WATCH >> HOW TO GENERATE A YOUTUBE SUBSCRIBE LINK
---
STEP #3 – Brand your channel
You have one chance to make a good first impression, and the best way to get your audience to hit that subscribe button is to tell them why they should! Your header on your channel is prime real estate use it wisely.
Create a Channel Header
This is what it should include:
How many videos you post per week
What day your audience can expect new content
A brief description of what kind of content your channel offers
Your logo
Upload A Profile Picture / Avatar
Your avatar should be a quality photo of yourself and it should be the same as the profile photo you use on all of her social platforms for brand consistency.
---
STEP #4 – Add your website and social links
With all of the free, targeted and organic traffic your YouTube channel will attract you want to make sure you're turning warm traffic into potential customers and lifelong brand ambassadors.
First, Send traffic to your conversion site: A conversion site is a place to convert your traffic into potential customers by adding them to an email list or sending them to an online store.
Second, Add your social links to your channel: This is beneficial because then you can turn your YouTube traffic into community members on all of the social platforms so that you can deepen your relationship with your audience.
WATCH >> HOW TO ADD ICONS TO YOUR YOUTUBE CHANNEL
---
STEP #5 – Add Channel Keywords
You want to add channel keywords to make your channel easier to find for your target audience. Make sure that these words match the exact words that your target audience is searching for when they are looking for your content.
Go to the creator studio
Select settings
Select Channel
Add Channel keywords
---
STEP #6 – About section
Your about section of your channel should be short and sweet! It should:
Give your audience an idea of who you are?
How you can help them?
Why they should subscribe?
Here is what to include in your about section:
Brief Bio
Link to subscribe to your channel
Link to an email list or conversion page
Link to social sites
What to watch 1st / playlist / trailer
---
STEP #7 – Watermark your videos
You want to add a logo or subscribe button to all of your videos at once. It will take you less than five minutes to do this. WATCH >> HOW TO WATERMARK YOUR VIDEOS
---
STEP #8 – Create Playlist & Sections
Keeping people on your channel for a long periods of time increases your channel's watch time, which tells google that you have really good content, which how do you rank higher and search!
So, what's an easy way to keep people on your channel? Playlist! Another benefit of playlist is that if you use them correctly keywords in the titles, your entire playlist can rank and search for those keywords. This is a great way to increase your channel optimization.
Go here to learn how to set up your playlist & sections: https://support.google.com/youtube/answer/3027787?hl=en&ref_topic=4601639&visit_id=1-636260525579959200-932738558&rd=1
---
STEP #9 – Add a Channel Trailer
Your channel trailer is the best way to introduce yourself to a new visitor on your channel and instantly tell them why they should subscribe! If you don't have a channel trailer already made, use one of your most popular videos as your channel trailer in the mean time to showcase your best work to potential new subscribers.
Your script for your channel trailer should include:
Who you are
Why you are a credible source (creator of, author of, founder of)
How your content will benefit your viewers
A call to action to subscribe to your channel and go to your website for more info
Here are the step-by-step instructions to add a channel trailer: https://support.google.com/youtube/answer/3026513?hl=en
---
STEP #10 – Custom Thumbnails
Custom thumbnails help you stand out from the crowd and also act as an extension of your branding. They should be consistent and text and color in along with your brand aesthetic.You can only add custom thumbnails once you have verified your Google account.
---
Tools & Resources
Here are a few tools you might want to use:
CANVA https://www.canva.com/
TUBEBUDDY: https://www.tubebuddy.com/
---
What's Next…
You're all set. Now promote your channel and new video content on your social media platforms, blog, and email list! And, don't forget to use your custom subscription link:
https://www.youtube.com/channel/ Insert YouTube Channel ID ?sub_confirmation=1
Be consistent! The more consistent you can be with your content the better chance you have of building a loyal audience. Aim for one video a week!
---
HOW TO START A YOUTUBE CHANNEL
Make sure you don't miss a step on this checklist.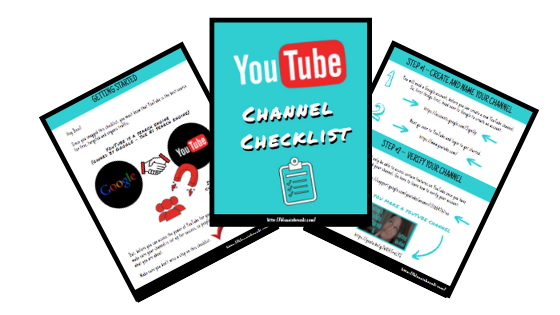 RELATED VIDEOS
2018 Thor Outlaw 37RB Motorhome TAKE A TOUR OF MY RV
HOW TO BRAND YOUR YOUTUBE CHANNEL WITH A WATERMARK ON YOUR VIDEOS
HOW DO YOU MAKE A YOUTUBE CHANNEL
YOUTUBE SUBSCRIBE LINK – HOW TO GENERATE A YOUTUBE SUBSCRIBE LINK
HOW TO ADD ICONS TO YOUR YOUTUBE CHANNEL
YOUTUBE EQUIPMENT – EQUIPMENT FOR STARTING A YOUTUBE CHANNEL
💰 HOW TO MAKE MONEY ON YOUTUBE 💰
---
💰 WANT TO WORK WITH ME?
I have worked with tons of brands, companies, and publications. (I.e. promotional partnerships, sponsored trips, website advertising opportunities, speaking event, product & service reviews.) let's chat! info@RVersity.com
---
AFFILIATE LINKS for this video. Thank you for trusting me with my truthful and reliable opinion on any future purchase you may make. I always disclose this information when it is the case. As a friend of #RVersity you allow me to be able to use affiliate/referral links when suggesting items for purchase. As a customer of the products I refer, you help me sustain the time and resources to create content on this channel by generating revenue from your sales. This doesn't affect you in any way in the checkout process unless I've been able to arrange a discount for you that is special from other customers.
---
Hey, I'm Blogging Brandi! Over 5 years ago, I traded my sticks & bricks lifestyle for a life on wheels. Quit my job, sold my house, and everything else, then bought an RV! First, was a Travel Trailer, then Van Life then Motorhome Living. Now, I help people go from feeling overworked, underpaid, and undervalued to living a life of freedom & financial security they love from the comfort of their home on wheels aka Full Time RV Living!
🎓 Learn HOW TO RV Like A Pro Enroll at RVersity
🗣 [JOIN MY SECRET GROUP] Interact with me behind the scenes:
💪 [FREE MASTERCLASS – 45min online training!] Learn My Proven 4-Step "Full Time RV Life Formula" To Get Started Fast & Easy!
---
Wonder WHY I Live Full Time in an RV? Here's (MY STORY)…

🚨 UPDATE: My Full Time RV LIFE IS NOT THE SAME! (What Changed?