HOW TO MAKE MONEY FULL TIME TRAVELING ON THE ROAD IN AN RV
HOW TO MAKE MONEY FULL TIME TRAVELING ON THE ROAD IN AN RV? If you've been thinking about exploring the RV life, living in an RV and Working on the road then you're probably wondering about making money on the road. In this video, I'm teaching you how to make money full time RVing and the different ways to earn an income while traveling in an RV. RV Jobs such as workamping may seem like the only option to make money on the road which is why I wanted to share a few new ideas for how to make money RV living.
One of the biggest questions I get asked is, "how do you make money on the road?" So, in this video I thought I'd break that down for you and share with you some ways to start making money from the comfort of your RV!

Let's dive in!
---
Become A Re-Seller
Get started making money with your phone by downloading the Amazon Seller App for iPhone or Android. Scan everything you have and see if you have anything of value to sell. I re-sell almost anything either on Amazon or eBay while on the road. I find items at Goodwill, Walmart, Target, and tons of other places to make a profit on. It is as simple as downloading the app and using your phone to scan items into your inventory. You can list everything right from your phone!
---
Affiliate Marketing
Affiliate marketing is as simple as sharing a link and earning a profit for the referral. You can share affiliate links on Social Media (Twitter, Facebook, Instagram, Pinterest, LinkedIn and so many other platforms). If you have a YouTube channel start adding links to the products you use or are using in a video. People like to buy items they know others have successfully tested. And, if you know that someone else could save time, a headache or more why not give them a solution you've already found. The easiest way to get started with affiliate marketing is by signing up for the Amazon Associates Program and eBay also has what's called the eBay Partner Network.
For example, I had no idea when I upgraded my Van to a Class A Motorhome that the tires are "high pressure" meaning they can't use a normal air pump. And, if you know RVs then you know that under or over inflated tires is a safety concern. So, before I leave on any road trip I always have to check the air in my tires which is why I bought this ViAir Air Compressor to save time trying to find a truck shop for air!
Almost every company offers affiliate programs now. A Simple search of Google for the "Company Name + Affiliate Program" will get you an answer. Also, by scrolling to the bottom of a company's website you can usually find an "Affiliate" tab if they offer such a program.
Some of the camping or RV related affiliate marketing programs I've found are:
---
Sell Your Services / Skills
If you've ever had a job before, especially one that requires a computer and Internet then you could probably do your job from anywhere given the right tools. No matter what your profession or skill level someone needs your help. The first step to selling yourself, skills or services online is to set up a professional profile. A great place to do this is LinkedIn. Take the time to fill out your linkedIn Profile and skills. Go through each section thoroughly so you can attract the right type of job offers. You have to let people know what you can do and that you are available. Also, you can search for jobs on LinkedIn as well!

Another great place to start selling yourself is Fiverr.com. Fiverr is one of my favorite sites not only to sell yourself, but to hire some help if needed since it is so user friendly. They handle all the payments and act as the third party should you have any issues on a project. You can book gigs for as little as $5 Dollars to give people a taste of your work, or set your prices higher with add ons. Another similar site is Upwork, formerly ODesk.

---
Design & Sell Merchandise
If you've ever thought about designing and printing your own merchandise, then Printful is for you. Whether you want to put a quote you love on a pillow, or design a cool coffee mug Printful is your one stop shop. You can create t-shirts, hats, socks, and so much more with their easy to use platform. They even have a WordPress plugin to integrate with your website. Printful also has an Affiliate program (as mentioned above 🙂

---
Write A Book
Ever thought about writing a book? Amazon has a FREE platform to help you get started called KDP, which stands for Kindle Direct Publishing. You can add a cover and even pre-sale your book before you write it! Whether you want to sell a hardcopy or digital ebook you can accomplish both with Amazon's Kindle Direct Publishing!

---
Start A Patreon Fan Page
If you love to create content, why not get paid for it? Patreon is a platform that allows "creators" to set up a fan page and get paid for publishing content. Content can be blog posts, behind the scenes, early video releases, etc… Or maybe you have a meet up once a year. Your fans want to support you if you provide them with some kind of value. Creators come on all shapes and sizes from YouTubers, to Bloggers, and so much in between. Check out the Patreon website for ideas on how others make money for publishing various types of content.
---
Become A Workamper
Workampers are just what they sound like "Work" + "Campers." If you love to travel and want a more traditional job then workamping might be for you. I'd be willing to bet almost every RV park has a few workampers living on property, but finding these RV Jobs can be a task. You can always try to get in good with the RV park and ask ahead if they have a workamping program.

If you like KOA Kampgrounds then check out their workamping program which has tons of benefits. You have to sign up and pay a small fee ($35 as of current) but you can access all their workamping jobs available. Here you can create a resume and apply for any positions you might be interested in, as well as, see what benefits come with that job.

---
Teach An Online Course
Do you love to teach? Got something you know others can learn and benefit from? Why not create and teach an online course? It's free to get started and easy to do with Thinkific! No matter what you want to teach, Thikific can help you create your course, set up a landing page / website, and all of the marketing tools to go along with it. You can check out the RVersity course I create using Thinkific here.

---
How To RV & Make Money
Now you know how to make money on the road from your RV or almost anywhere, but I'm sure that was a lot to cover. Don't worry I've put together all of these ideas and more in a guide to help get you started.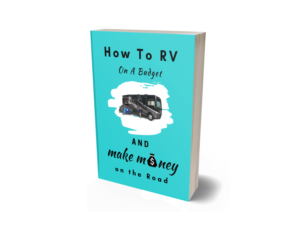 🔽 HOW TO MAKE MONEY WHILE RVING 👉 https://bloggingbrandi.com/ugtmmo
---
💰 WANT TO WORK WITH ME?
I have worked with tons of brands, companies, and publications. (I.e. promotional partnerships, sponsored trips, website advertising opportunities, speaking event, product & service reviews.) let's chat! info@RVersity.com
---
AFFILIATE LINKS for this video. Thank you for trusting me with my truthful and reliable opinion on any future purchase you may make. I always disclose this information when it is the case. As a friend of #RVersity you allow me to be able to use affiliate/referral links when suggesting items for purchase. As a customer of the products I refer, you help me sustain the time and resources to create content on this channel by generating revenue from your sales. This doesn't affect you in any way in the checkout process unless I've been able to arrange a discount for you that is special from other customers.
---
Hey, I'm Blogging Brandi! Over 5 years ago, I traded my sticks & bricks lifestyle for a life on wheels. Quit my job, sold my house, and everything else, then bought an RV! First, was a Travel Trailer, then Van Life then Motorhome Living. Now, I help people go from feeling overworked, underpaid, and undervalued to living a life of freedom & financial security they love from the comfort of their home on wheels aka Full Time RV Living!
---
Wonder WHY I Live Full Time in an RV? Here's (MY STORY)…

🚨 UPDATE: My Full Time RV LIFE IS NOT THE SAME! (What Changed?