WHICH RV IS RIGHT FOR ME | HOW TO CHOOSE THE RIGHT RV FOR YOU
Which RV is Right for Me? If you are in the process of buying an RV, then choosing the right RV for your RV lifestyle is important. You've probably wondered, "Which type of RV is right for me?" I've had a travel trailer, van, and now full time RV living in a Class A motorhome. A 5th wheel Camper or Class C are also great options. With all of the different types of RVs available choosing an RV can be difficult. In this video, you'll learn how to choose the right RV for you.
---
There are Two BASIC types of RVs:
Drivable
Drivable RVs often referred to as motorized units don't require an additional vehicle to operate. They are an all-in-one house and car. This is referred to as the Chassis and the Coach.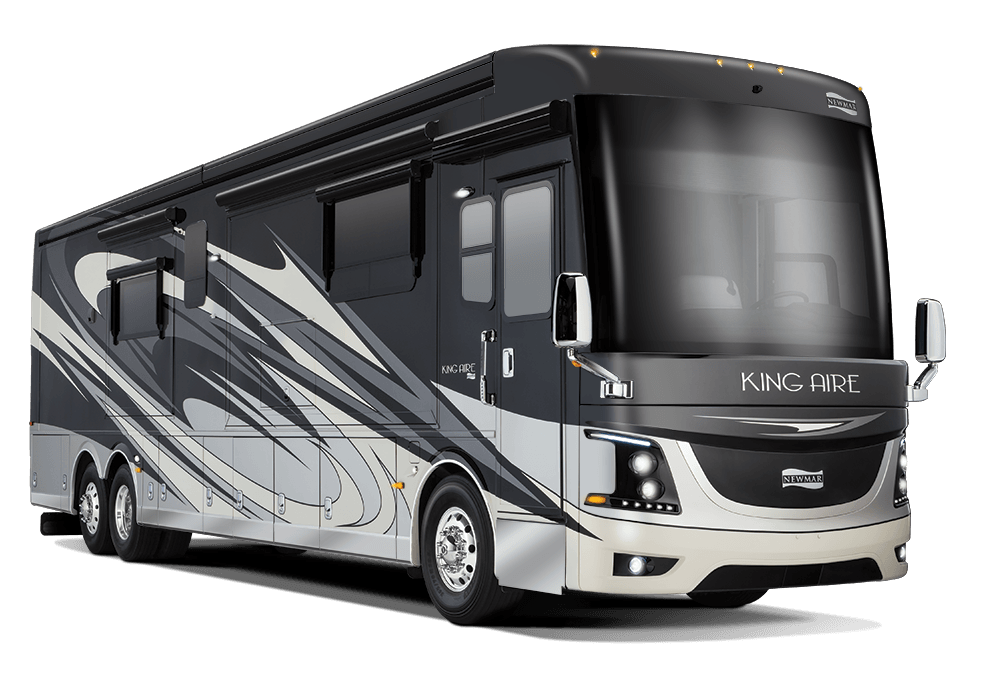 Towable
Towable RVs do not have their own motor and must be attached or towed with an additional vehicle. When purchasing a towable unit you must have a vehicle powerful enough to pull it so as not to damage your transmission. There are a lot of factors that come into play.
Travel Trailer
Toy Hauler
Fifth Wheeler
Pop Up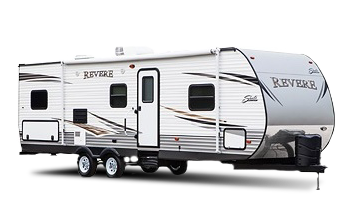 ---
Drivable / Motorized RVs
Class A Motorhome
Class A motorhomes come in Gas and Diesel .

Class A gas motorhomes provide a comfortable home-like experience while on the road. These coaches are equipped with many luxurious residential amenities, but at a lower price point than its diesel counterpart . With class A gas motorhomes, you will get plenty of basement storage that is easily accessed through the slam-latch baggage doors that line the perimeter of the coach's exterior. These motorhomes have enough power to tow a car, small boat, or motorcycle.

Class A diesel motorhomes provide the ultimate luxury travel experience with elegant features that will make you feel like you are staying in a five star hotel . Class A diesel motorhomes are also known as diesel pushers because the engine is located in the rear of the coach, providing more power to tow a car, boat , or cargo trailer. These motorhomes are a popular choice for full time RVers as they provide many household amenities such as a dishwasher, washer & dryer, residential refrigerator, premium mattress, and usually are equipped with more than one bathroom.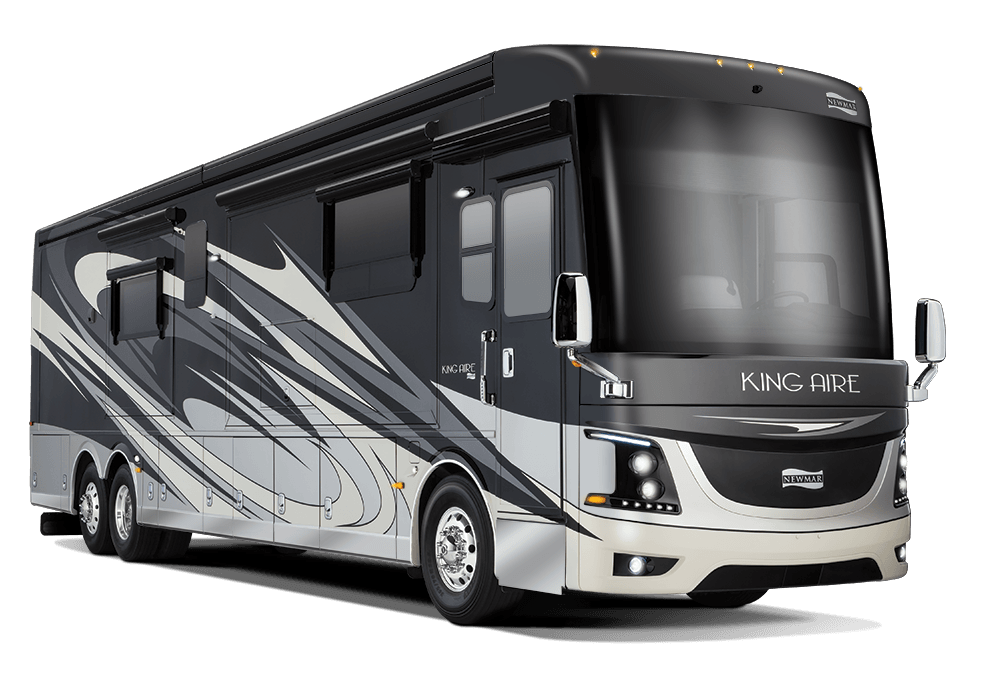 ---
Class B
Class B motorhomes are the perfect touring coach and come on a typical van chassis. They offer great flexibility and luxury for vacation and are even popular for full time living because of their solid construction and dependability. These coaches feature a rear power sofa that lowers down into a king size bed, providing comfortable sleeping arrangements for two. The bathroom and galley offer practical solutions & innovative features that make the compact space very usable.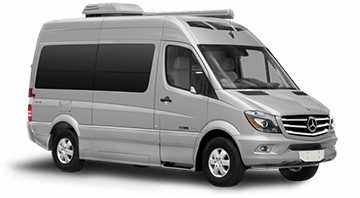 ---
Class C
Class C motorhomes offer fully loaded features with plenty of room for the family. The class C motorhome has ample sleeping space and generally is equipped with a rear queen bed, a double bed over the cab, and a sleeper dinette and/or sleeper sofa. These motorhomes provide a great amount of storage in their rear trunk and interior pantry spaces, overhead cabinets, and wardrobes. These RV's have enough power to tow along a car and are very easy to drive. Class C motorhomes are a popular choice for long road trips, family vacations, and make for a great couple's model as well.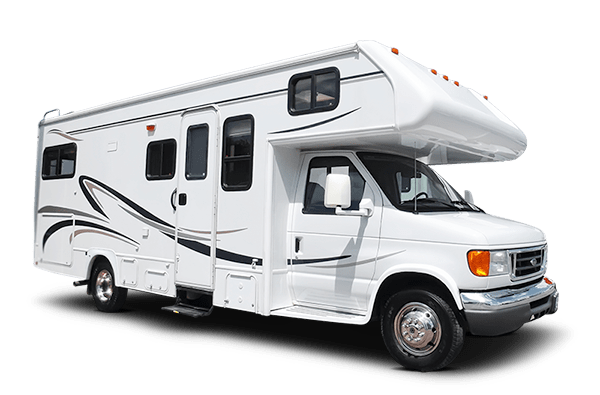 ---
Towable RVs
Travel Trailers
Travel trailers have a variety of floor-plans to choose from. These RVs range from the family friendly bunkhouse model that can sleep a small army, to the lightweight couple's model perfect for weekend getaways for two. Travel trailers are made with innovative options such as Murphy beds, outside kitchens, and four season insulation. Some travel trailers can be towed with a small to mid-range SUV.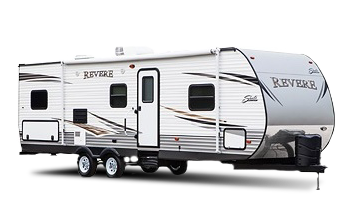 ---
5th Wheeler
5th Wheels are easy to tow, feature many home-like amenities, and offer a residential feel . Their fully equipped kitchens of ten have a residential refrigerator, microwave, stove-top, oven, ample pantry space, and some floor plans even have islands that provide extra counter space. The bedroom is usually in the front of the coach, near the bathroom, and features a large wardrobe. Most 5th wheels have washer & dryer hook-ups in the bedroom. 5th wheels are great options for growing families as the bunkhouse models offer plenty of space for the children to sleep, some even have a second entertainment center and bathroom just for the bunkhouse.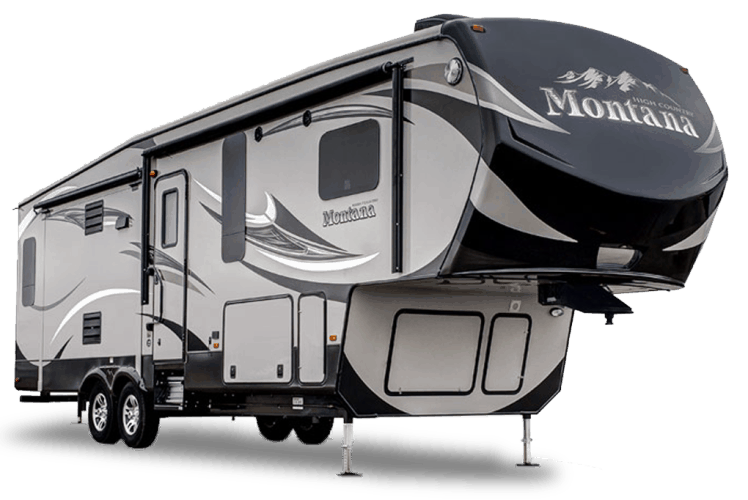 ---
Toy Hauler
Toy Haulers are perfect for the outdoor sports enthusiast who wants to take all of their toys with them on the road. These RVs feature a rear garage where you can store motorcycles, ATVs, bikes, and other vehicles. We offer Toy Haulers 5th Wheels or Toy Hauler Travel Trailers. The 5th wheel option provides a separate living area from the garage and has more residential features, like a full kitchen, master bedroom, and extra sleeping space for guests. The travel trailer is a more compact option, combining living space, kitchen and garage into one area, but is also lighter and therefore easier to tow.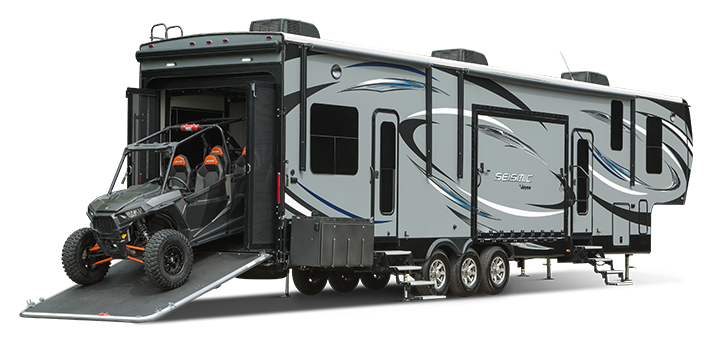 ---
Pop Up Camper
These lightweight campers are ideal for a smaller towing vehicle. Pop Ups fold down for easy towing and storage and can generally sleep from 4 to 6 people.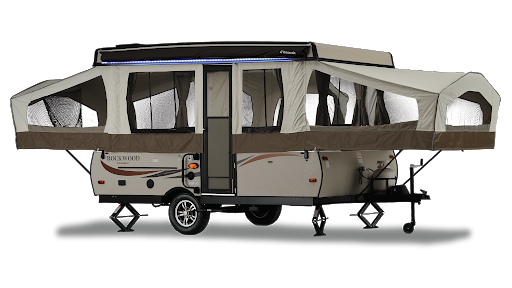 ---
OTHER TYPES OF RVs
Truck Campers
Truck Campers sit in the bed of a truck and offer a great amount of flexibility and freedom on the road. These RVs often have a bed, kitchenette, wet or dry bath, and a dinette or sofa, offering plenty of amenities in a compact space. Truck campers are popular among outdoors enthusiasts because they can take them into the woods for hunting or fishing and not have to worry about towing anything behind them.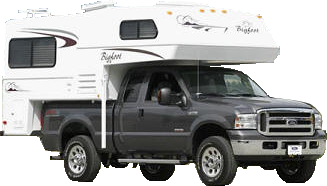 ---
RV Lifestyle & Budget
Every RV lifestyle has many things in common, yet each has its own special requirements. You need to choose an RV that is right for your specific needs. You are buying a house and will have to make it into a home!
Define Your RV Goals
How LONG do you plan to use your RV at a time? ( I.e. weekend outings, long vacations, work, or full time living )
How many individuals will be traveling and sleeping in the RV on a regular basis?

Decide On A Budget
The cost of the RV is just one of many additional costs to get set up and stay on the road. The cost to operate and travel must also be factored in and include:
Insurance
Gas / Diesel
Propane
Electric, Water, Sewer
Plus, any wear and tear maintenance on the chassis or coach itself .
In order to operate an RV you will need things like: Electricity, Water, Sewer, Cable, Internet
Hooking Up V.S. Boondocking
Are you planning on "hooking up" your RV to an external power source like an RV Park, Campground, or House for your water, electricity & sewer, etc. . .?
OR
Are you going to be living completely self sufficient (aka boon-docking)? This is also referred to as dry camping.
RV Amenities
Every amenity within the RV has a direct impact on RV size, weight , and cost. Use this checklist to determine which are a must and which you can live without . This process will help you balance the comforts of life against the size, weight, and cost of your RV.
Make a list of all the RV Amenities you might want:
EXTERNAL AMENITIES
Awning over main entrance
Awning over large windows
Electric awning (not manual )
Slide covers (awnings on top of slides)
Automatic entrance steps
Sliding storage tray in basement
Sliding porch
Electric storage tank dump valves
Electric leveling jacks
Automatic leveling system
Hitch receiver on rear bumper designed for platform or towing
Motor homes: Entrance near middle of vehicle (not near front)
FLOORPLAN
One bedroom, separate from the main living area
Two bedrooms, separate from the main living area
Large windows in the back of the RV
Opposing slides in main living area
Enclosed bathroom, including shower, toilet , and sink
Enclosed toilet area
Bathroom access not through bedroom
Washer and dryer space for stackable units Washer/dryer space for combined unit
BEDROOM(S)
Queen size bed
King size bed
Two beds
Bunk beds
Large closet spanning width of RV
Vanity
COMFORT
Day & night shades on all windows
Separate A/C controls for bedroom and living area
Automatic, temperature-sensing exhaust fan (Fan-Tast ic Vent )
Upgraded insulation for cold weather and noise reduction
Double-pane windows for cold weather
Electric heater of fireplace
OVERALL DESIGN
Suitable for full timers
Suitable for snowbirds
Suitable for vacationers
Suitable for RV campers or weekenders
Trailers: All weights within tow vehicle's manufacturer ratings
Can be operated on state and federal highways without a CDL
ENTERTAINMENT
Recliners
Large screen
TV in living area
TV in bedroom
Stereo system
In-motion satellite system
ELECTRICAL & WATER SYSTEMS
Additional batteries for extended boondocking
Generator for making AC power
Inverter for converting DC to AC power
Solar panels for converting sunlight to DC power
Water heater operates on AC power and propane
Upgraded water heater to larger capacity
High pressure cleaning system for black tank
Heated basement and pipe compartments for freeze protection
KITCHEN
High output propane stove for high elevation cooking
Four door refrigerator with freezer
Automatic ice maker
Filter for drinking water and ice maker
Upgraded countertop materials
Counter top extension
LIVING AREA
Recliners
Sleeper sofa
Computer or office desk and drawers
Ceiling fan
Coat closet next to entry
Sun roof/sky light
---
WHICH RV IS RIGHT FOR ME?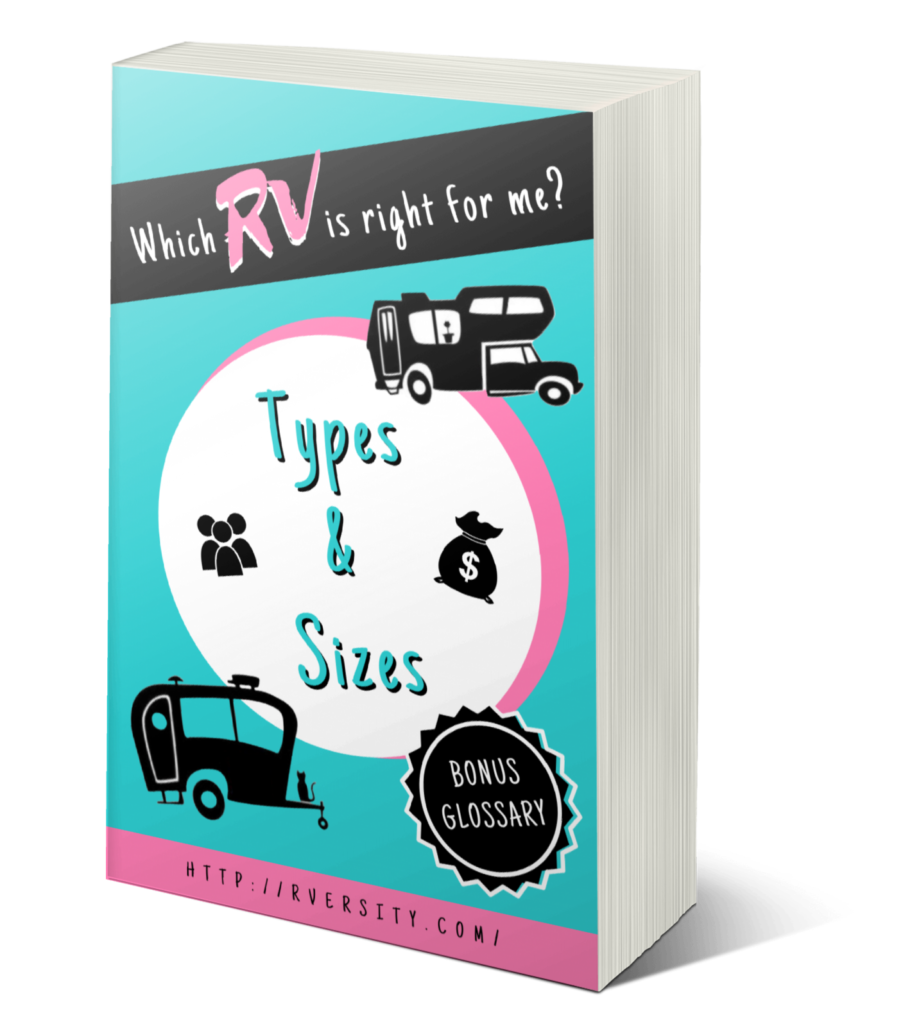 RELATED VIDEOS
RV Living Cost:
RV TOURS:
---
💰 WANT TO WORK WITH ME?
I have worked with tons of brands, companies, and publications. (I.e. promotional partnerships, sponsored trips, website advertising opportunities, speaking event, product & service reviews.) let's chat! info@RVersity.com
---
AFFILIATE LINKS for this video. Thank you for trusting me with my truthful and reliable opinion on any future purchase you may make. I always disclose this information when it is the case. As a friend of #RVersity you allow me to be able to use affiliate/referral links when suggesting items for purchase. As a customer of the products I refer, you help me sustain the time and resources to create content on this channel by generating revenue from your sales. This doesn't affect you in any way in the checkout process unless I've been able to arrange a discount for you that is special from other customers.
---
Hey, I'm Blogging Brandi! Over 5 years ago, I traded my sticks & bricks lifestyle for a life on wheels. Quit my job, sold my house, and everything else, then bought an RV! First, was a Travel Trailer, then Van Life then Motorhome Living. Now, I help people go from feeling overworked, underpaid, and undervalued to living a life of freedom & financial security they love from the comfort of their home on wheels aka Full Time RV Living!
🎓 Learn HOW TO RV Like A Pro Enroll at RVersity
🗣 [JOIN MY SECRET GROUP] Interact with me behind the scenes:
💪 [FREE MASTERCLASS – 45min online training!] Learn My Proven 4-Step "Full Time RV Life Formula" To Get Started Fast & Easy!
---
Wonder WHY I Live Full Time in an RV? Here's (MY STORY)…

🚨 UPDATE: My Full Time RV LIFE IS NOT THE SAME! (What Changed?
---