How To Downsize – DOWNSIZING TIPS for LIVING IN AN RV Full Time
Want to start LIVING IN AN RV? Then, you are going to need to learn HOW TO DOWNSIZE your home! If you're wondering HOW TO TRANSITION TO RV LIFE? These DOWNSIZING TIPS FOR FULL TIME RV LIVING will help you learn how to downsize your closet for living in an RV full time. The transition from living in a house to RV living full time requires you to learn how to minimize, get rid of your stuff and adapt to minimalism. Don't make the same Mistakes Downsizing to an RV as I did. There is a list of must dos before moving into an RV full-time. In this video, I'll share how I started Downsizing Fulltime RV Living and tips for how to downsize!
How did you sell everything you owned?
A few years ago, I decided to quit my job, sell everything I owned, my car, house everything! Then, I bought an RV. First I had a travel trailer, then downsized to live in a van…. until a few months ago I just my Class A motorhome.
No matter what RV you decide to buy you are limited on SPACE and don't want to make the mistake of dragging around extra WEIGHT (this costs you more in fuel aka MONEY).
When I started the downsizing process I sold, gave away, donated and even traded things with family, friends and online. Most of the things you think you need you probably don't. You need to learn how to become a minimalist aka get rid of your stuff! This is what I did and some downsizing tips for what you can try…
---
STEP #1 – FIGURE OUT WHAT YOU DO NEED VS DON'T NEED
Get rid of anything:
You don't use or haven't used in the past 3-6 months. Try separating your clothes into a pile of yes, no, and maybe.
Live seasonally. Try keeping your summer items packed away and vice versa with your summer items. You can learn how to Be More With Less. Check out Project 333. It will teach you how to live with 33 items for 3 months at a time.
Anything you wouldn't need in an RV
I keep things around that save space, are collapsible, or multifunctional. Not always things you would keep or need in a normal house. Some things are RV specific and others are not.
I made some videos about what I keep in my RV Kitchen, Bathroom, Bedroom, and Hooking Up. You can pick up all the essentials you DO need for your RV just DOWNLOAD my RV Essentials checklist for a list of items you will want to have in your RV.
RV ESSENTIALS CHECKLIST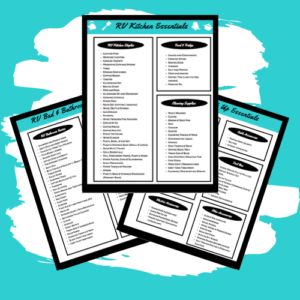 Note: Get a storage unit to start transitioning into the RV life. I was selling my house and trying to downsize. Having a storage unit (or space in your home, a family members home etc…) helped me separate my things and transition while I trying to downsize and transition into RV life.
---
STEP #2 – THE SELLING PROCESS
I feel like selling a house or in my case it was a Condo and my Car are pretty self explanatory…
SELLING MY CONDO required me hiring a real estate agent. I went through two different ones. FYI Don't hire your friends. Hire someone who knows how to sell your local area or type of housing.
SELLING MY CAR was really more of a trade in on my van. But, I have sold tons of cars and bought them via www.AutoTrader.com or even eBay Motors. Maybe Craigslist. Sell your car before you buy an RV. You'll make much by selling it yourself than on a trade. Carmax will buy your car and you can get a quote good for 7 days.
As far as selling all of my belongs or most of them like clothes, etc… it took some time. But, I did spend about a year trying to downsize and get rid of everything I could.
Here are some of the things I tried and others I'd recommend:
Amazon Seller App
eBay
5 Miles
LetGo
Mercari
OfferUp
Craigslists
Facebook Marketplace / Groups
Social Media (Twitter, Instagram…)
Garage Sale
Flea Market
Thrift Stores or Consignment Shops (Furniture & Clothes)
---
Now you know, how to start downsizing and becoming a minimalist to start living the RV life. All you need are the essentials which I've put into an RV Essentials Checklist you can download for a list of items to keep or buy!
RV Essentials Checklist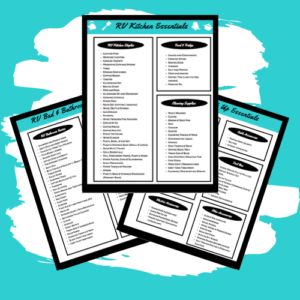 ---
VIDEOS & LINKS MENTIONED:
---
Learn how to "Be More With Less" by @CourtneyCarver
📚 PROJECT 333: https://amzn.to/2yFaGPR
---
@Amazon Seller: https://sell.amazon.com/
@eBay https://www.ebay.com/
@Craigslist https://craigslist.org/
@5Miles App: https://www.5miles.com/
@Mercari App: https://www.mercari.com/
@Letgo App: https://www.letgo.com/
@OfferUp App: https://offerup.com/
@AutoTrader https://www.autotrader.com/
---
RELATED VIDEOS
---
💰 WANT TO WORK WITH ME?
I have worked with tons of brands, companies, and publications. (I.e. promotional partnerships, sponsored trips, website advertising opportunities, speaking event, product & service reviews.) let's chat! info@RVersity.com
---
AFFILIATE LINKS for this video. Thank you for trusting me with my truthful and reliable opinion on any future purchase you may make. I always disclose this information when it is the case. As a friend of #RVersity you allow me to be able to use affiliate/referral links when suggesting items for purchase. As a customer of the products I refer, you help me sustain the time and resources to create content on this channel by generating revenue from your sales. This doesn't affect you in any way in the checkout process unless I've been able to arrange a discount for you that is special from other customers.
---
Hey, I'm Blogging Brandi! Over 5 years ago, I traded my sticks & bricks lifestyle for a life on wheels. Quit my job, sold my house, and everything else, then bought an RV! First, was a Travel Trailer, then Van Life then Motorhome Living. Now, I help people go from feeling overworked, underpaid, and undervalued to living a life of freedom & financial security they love from the comfort of their home on wheels aka Full Time RV Living!
🎓 Learn HOW TO RV Like A Pro Enroll at RVersity
🗣 [JOIN MY SECRET GROUP] Interact with me behind the scenes:
💪 [FREE MASTERCLASS – 45min online training!] Learn My Proven 4-Step "Full Time RV Life Formula" To Get Started Fast & Easy!
---
Wonder WHY I Live Full Time in an RV? Here's (MY STORY)…

🚨 UPDATE: My Full Time RV LIFE IS NOT THE SAME! (What Changed?